A Namibian Game Drive to remember
Burgsdorf also offers game drives in a 13000ha game camp. There are 13 different species of game. It is a wonderful experience to drive in this vast game camp of open planes in the south of Namibia.
It's an unforgettable experience to be so close to a wild giraffe that you can almost touch it.
The oryx in its natural habitat, one of the deserts true gems. These Oryx are also genetically bigger and most beautiful.
To see a tunnel of dust only to see that it is springbuck, zebra, black wildebeest or maybe an hartebeest that is running its heart out on the open planes.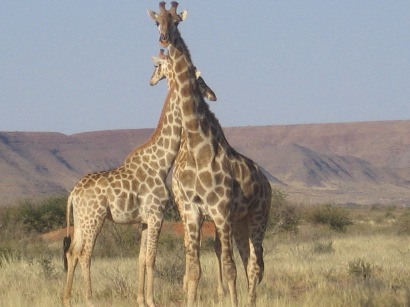 Can you spot the third giraffe?

An ostrich nest!